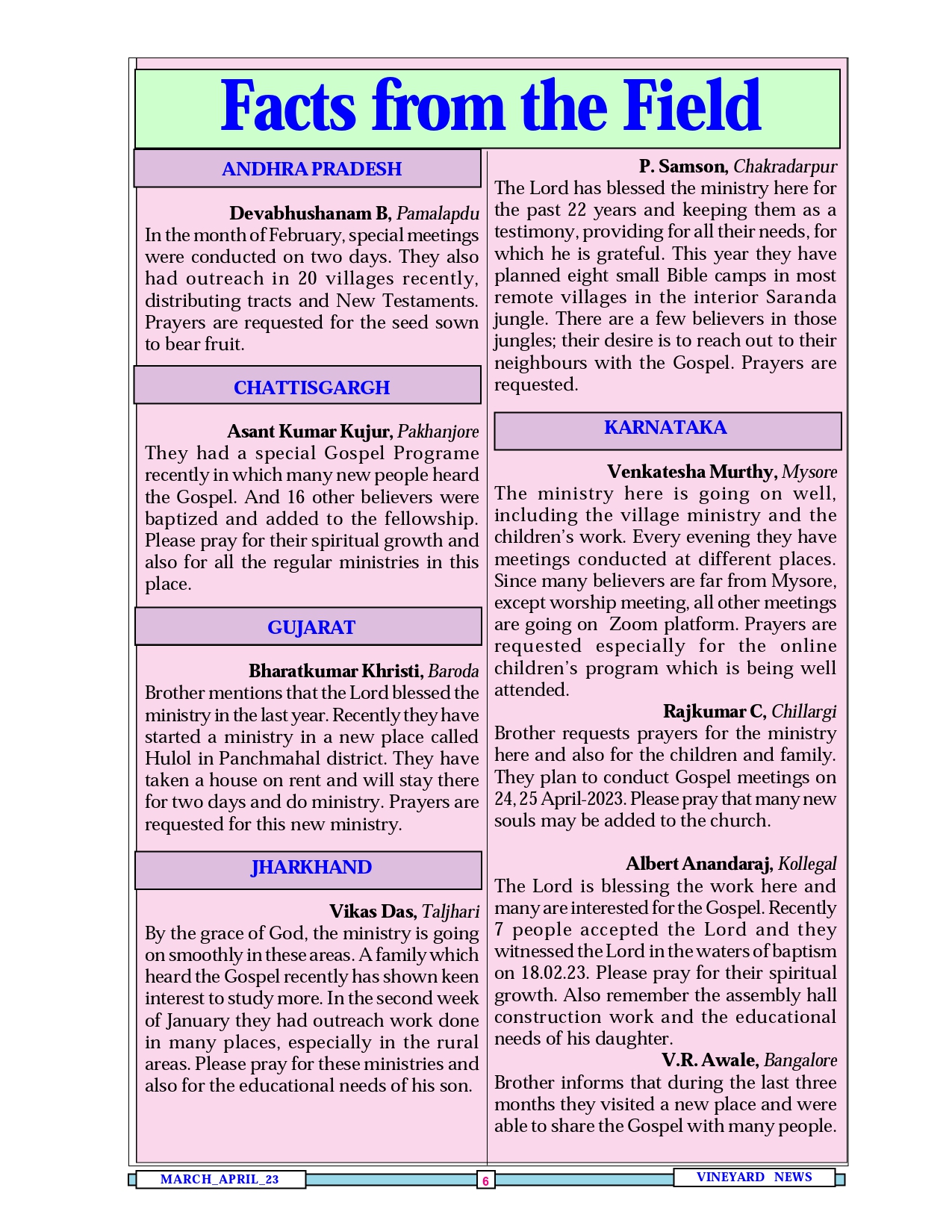 THREE LINKS THAT COVID CANNOT BREAK
Merwyn Wishaart, UK

THE BELIEVER'S LINKS WITH HEAVEN
4. Our Inheritance is there.
An inheritance is not something which is earned. It is a birthright blessing.
When the Lord commissioned the Apostle Paul to preach the Gospel, He told him what the result of his preaching would be. 'To open their eyes, and to turn them from darkness to light, and from the power of Satan unto God, that they might receive forgiveness of sins, and inheritance among them which are sanctified by faith that is in me'. '(Acts 26:18) Those who believed had their sins forgiven. Their sins were gone and they received something of infinite value, an inheritance among them which are sanctified.
In Genesis 24 we read the story of how Abraham's servant was sent to find a bride for Isaac. He travelled to the land of Mesopotamia to the city of Nahor. He was guided to the house of Laban, Rebekah's brother. When he went into the house he spoke about his master Abraham, saying 'The Lord hath blessed my Master greatly; and he is become great': He spoke about his master's son and said 'Unto him hath he given all that he hath. Isaac was heir to all that Abraham possessed. The evidence of his wealth was displayed by the servant. He 'brought forth jewels of silver, and jewels of gold, and raiment, and gave them to Rebekah'.(24:53). The gospel preacher not only preaches the forgiveness of sins but offers a great inheritance to all who turn to Christ the Son of God. 'He is the heir of all things'(Heb.1:2).
Dear Reader let us pause to consider what is beyond our comprehension, the Scripture says. If children then heirs, heirs of God, and joint heirs with Christ'. (Rom.8;17). The believer's wealth is beyond calculation. Paul states, 'All things are yours…and ye are Christ's and Christ is God's. (1 Cor.3:21-23).
One of the reasons why the Holy Spirit is given to every believer is to help us to understand something of the great inheritance we have been brought into. 'that ye might know the things that are freely given to us of God. (1.Cor.2:12).
This inheritance is the present possession of every believer, but it is reserved for us in Heaven. It is another link we have with Heaven.
Peter writes about how Christians are kept down here, in this world. Our Inheritance is kept up there for us in Heaven. 'An inheritance incorruptible and undefiled, and that fadeth not away, reserved in Heaven, for you who are kept by the power of God through faith unto salvation ready to be revealed at the last time.(1. Pet.1:4,5). We note the description: 'incorruptible' death cannot touch it 'undefiled' sin cannot touch it 'fadeth not away' time cannot change it. No wonder Peter continues in v.6 'Wherein ye greatly rejoice'… The challenge for us is 'Are we living in the full enjoyment of our God given inheritance? The children of Israel were given an inheritance in the land of Canaan but they were commanded to go forward. To go in and possess the land.
The message of the Lord through the prophet Obadiah in 1:17 was 'But upon mount Zion shall be deliverance, and there shall be holiness; and the house of Jacob shall possess their possessions'

Why should I charge my soul with care?
The wealth of every mine
Belongs to Christ, God's Son and Heir,
And He's a friend of mine.
The golden sun, the silver moon,
And all the stars that shine,
Are His alone, yes, every one,
And He's a friend of mine.
John Henry Sammis
5. Our Reward is there.
In the sermon on the mount the Lord Jesus exhorted His disciples saying 'Rejoice and be exceeding glad: for great is your reward in Heaven':(Matt.5:12)Our God sees and knows all that is done for Him, and will justly reward it in a coming day. 'For God is not unrighteous to forget your work and labour of love, which ye have showed towards His Name, in that ye have ministered to the saints and do minister' (Heb.6:10).
We note that the Lord rewards work for Him that is done with a true motive, 'a labour of love' and that which is for His people 'ye have ministered unto (served) the Saints.' Even the smallest act of service will be rewarded, 'For whosoever shall give you a cup of water to drink in my Name…he shall not lose his reward'. (Matt.10:42)
What surprises there will be at the Judgement seat of Christ, little acts of service you have rendered and long forgotten will be rewarded then.
Deeds of merit as we thought ,
He will show us were but sin
Little acts we had forgotten,
He will tell us were for Him.
There are three parables told by the Lord Jesus to illustrate the principles on which rewards will be given. (Matthew 20:1-16)'The parable of the Pence' (Matthew 25:14-30) 'The parable of the talents' (Luke 19:12-26) 'The Parable of the pounds.'